Colorado Springs, Colorado
Eric & Dana Breier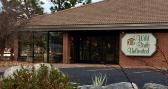 We're passionate about birds and nature. That's why we opened a Wild Birds Unlimited Nature Shop in our community.
Colorado Springs, Colorado
3350 N. Union Blvd.,
(NE Corner of Union Blvd & Templeton Gap Rd)
Colorado Springs, CO 80907
Phone: (719) 596-1819
Email: Send Message
Store Hours:
Mon - Sat: 9:00 am - 5:00 pm
Sun: Closed

Comments:
If you'd like help identifying a new bird to your backyard, please click on the link "Online Bird Identification Tool" above. It's a great resource we're offering customers and visitors to our website. Happy Birding!

How to Keep Your Feeding Area Tidy