Local Artist Showcase - Linda Larsen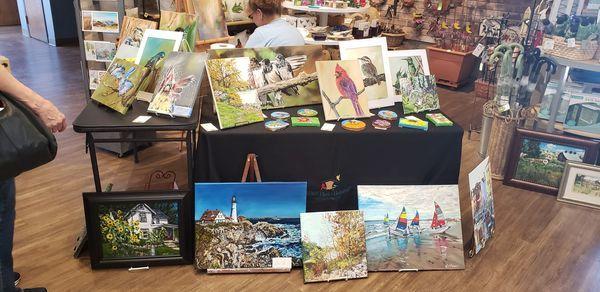 I have always enjoyed drawing and painting. Even when I was little, I was sketching with colored pencils. As I got older, I began learning to draw in pen and ink and paint with acrylics. In high school, I was given a set of oil paints in a nice wooden case. I had no idea how to use them so they sat untouched.
As I got older, I started making posters for work, painting windows in homes and businesses at Christmas, painting ceramics, and even tried my hand at calligraphy. In the early '80s, I heard about an amazing artist who had art classes on television and even books to learn how to use oil paints! I found my wooden case of paints and made time each week to paint along. I learned so much from Bob Ross! I still love his work and his "happy little trees."
Years passed and life happened. I taught cooking and crafts in 4-H for years, which was another chance to express my art while working and helping others, but when my children left home it no longer had the same importance to me. I stepped back to let others take on the role of leader and let life happen some more.
After retiring and some health issues, my husband and I sold our home in Idaho and moved to Colorado Springs to be nearer to our daughter and her family. We arrived in March of 2019.
After settling in here, I began painting again. My daughter wanted me to paint a cow for her as a birthday present. It felt wonderful to hold a brush in my hand again. I enrolled in an online class for oil painting with Bill Inman, who has been an inspiration to me and a wonderful teacher.
I've started playing with watercolors the past year and enjoy them, as well. Painting is about always learning new things.
It feels wonderful to be able to paint, not only for my own enjoyment but for those who enjoy my passion, too.